View Pricing & Get Started With Our Residential Lawn Mowing Right Now!
You can be on your way to getting dependable residential lawn mowing services with the simple click of a button. It's really as easy as selecting the actual acreage of your property, desired frequency, and filling out the registration form. Carolina Outdoor Creations, Lawn & Landscapes will take care of the rest.
Don't let another minute go by! Your lawn is waiting for the best mowing services in Apex, North Carolina. Get started now!
Register Now for Residential Lawn Mowing Services
Simply fill out the GET STARTED NOW form and hit SUBMIT!
We will contact you quickly so we can answer any questions that you may have regarding our Lawn Mowing Service.
Residential Standard Mowing Prices
Includes: Mowing the lawn, trimming around structures, edging walkway & driveways, and blowing off hardscape surfaces.
Acreage
(Acres or Less)
Weekly
Every
Two Weeks
Start Up
0.15
$33.95
$42.95
$52.40
0.25
$37.95
$46.95
$57.28
0.3
$41.95
$50.95
$62.16
0.4
$45.95
$54.95
$67.04
0.5
$51.95
$60.95
$74.36
0.6
$57.95
$67.95
$82.90
0.7
$63.95
$74.95
$91.44
0.8
$70.95
$81.95
$99.98
0.9
$78.95
$90.95
$110.96
1
$86.95
$98.95
$120.72
We'll Be There for Your Lawn. We Promise!
Not all lawn mowing companies are created equal. Some of them make big promises, and then skip town. Others show up late more often than not. Some companies trick you into believing they are more professional than they really are. Not Carolina Outdoor Creations, Lawn & Landscapes! We are the reliable lawn mowing company that keeps its promises.
We used to be known as Mow Blow & Go of North Carolina. Since 2010, we have been mowing lawns in the Apex area and keeping homeowners happy with our dependable services. Although our name has changed, and we now offer a few more services, our lawn mowing services remain as reliable as ever. As you can see from the pricing table above, we still offer simple, transparent prices, so you always know what our services will cost.
We have grown in the last decade, and we're happy to report that we mow lawns regularly for our loyal customers. We understand that you want a lawn mowing service that will show up as scheduled, charge simple fees, and keep offering the same professional services week after week. That's us. If you are looking for that sort of respect and responsibility from a lawn mowing company, we're waiting to hear from you!
Your residential lawn deserves to look its best all year long. It doesn't matter what type of grass you grow. We cut all varieties, including Fescue, Bermudagrass, Centipedegrass, and Zoysiagrass. Our CRM system helps keep our crews on schedule all day long. The same system handles our invoices. You'll only get charged for the services you receive.
Fill out the Get Started Now form above to sign up for regular lawn mowing.
Be One of Our Satisfied Customers from Apex and Surrounding Areas
We love when customers let us know how much they appreciate their lawns. We do our best to earn all our customers' trust, and from the looks of our many positive reviews, we think we're doing a great job!
"Always professional, efficient, reliable...Scott goes beyond the call to ensure great customer service on lawn care and hardscaping services. So thankful to have him take care of my lawn and landscaping!"
- Sharon M.

"Great company to deal with. Scott is a true professional and shows that he cares that his customers are satisfied with his work. He has done an outstanding job with our property. Would highly recommend him."
- Marylou H.

"Scott and his crew did some landscaping work at my house and I was blown away with how much better my property looked when he was finished. Scott was straightforward, responsive and an overall pleasure to work with."
- Andrew M.

"Since moving to Raleigh Scott and his crew have been maintaining my lawn and have always done a fantastic job. They are professional, show up on time and do a great job for a great price. I highly recommend them."
- Dallas A.

Check out our Google Reviews for more proof that Carolina Outdoor Creations, Lawn & Landscapes does everything it takes to make local homeowners happy.
Discover the Benefits of a Lawn Mowing Service with No Contracts
Not everyone has the time or ability to keep their lawn mowed all season long. That's why it's great to have Carolina Outdoor Creations, Lawn & Landscapes in the neighborhood to do it for you. Our residential lawn mowing services leave your lawn looking better than ever. The lawn mowing services include the following benefits:
Weekly Mowing

Weekly mowing is highly recommended for optimum blade strength and overall health.

We follow the lawn mowing rule of thumb: cut no more than one-third of the grass blade length in a single mowing.

When mowed every week, pests and diseases have less chance to settle in.

You'll get a great mowing, trimming, edging, and blowing with our weekly services.

Bi-Weekly Mowing

We only recommend bi-weekly mowing for warm-season turf because they don't require the same frequency as the more common turfs in our area. For Fescue grass, waiting 14 days between mowings is actually detrimental to your lawn's health.

Easy Pricing System

Our pricing is so simple and transparent we can post it directly onto our website for everyone to see. Look up your acreage on the pricing guide and easily learn how much our lawn mowing services cost.

Great Customer Service

Your time is valuable, so we aim to get back to you as soon as possible. Contact us through our online form, email (preferred), or phone for a fast response.

No Contract

Don't mess around with confusing contracts. Our way is better. Sign up for our lawn mowing services, and we'll start mowing right away. You let us know when you want us to stop.
Beautiful Lawns in Beautiful Neighborhoods
You and your neighbors will appreciate your well-tended lawn. View our portfolio of impressive lawns we care for in Apex and other parts of our service area in Wake County.
Let's Get Started with Your Lawn
With so many benefits, you have no reason to wait! It's easy to fill out our Get Started Now form and begin your professional relationship with the best lawn mowing company in the Apex area. Contact us if you have any questions.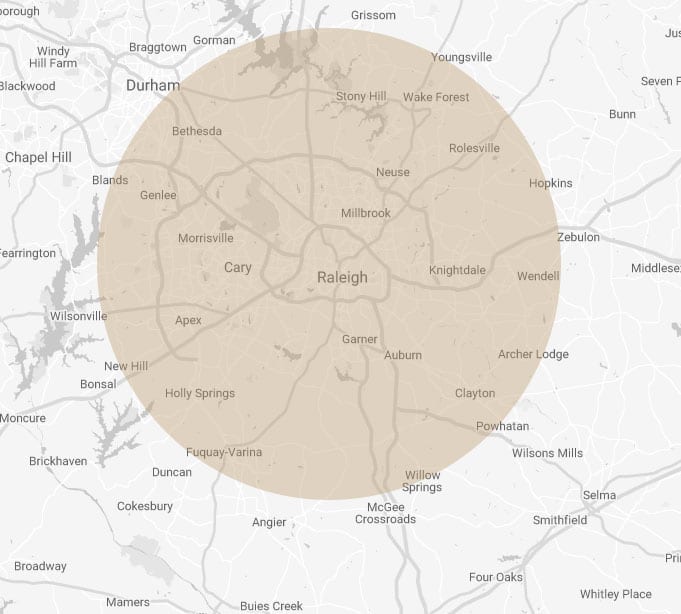 We Serve Raleigh, North Carolina and the Surrounding Areas
Our landscaping company is based in Garner, North Carolina, and we are pleased to work on residential landscapes all over the Raleigh, NC area. See our main Service Area page for a complete list of cities and neighborhoods.
Join Carolina Outdoor Creations, Lawn & Landscapes!
We are always looking for dependable employees to work on our landscaping crews. If you love working outdoors, appreciate the natural beauty of North Carolina, and value hard work and dedication to customer care, please get in touch.