Extending Your Living Space to the Outdoors Gives You More Room to Spend Time with Your Family and Friends
Spending more time outdoors is on a lot of people's bucket lists, so why not make it simple? Create a backyard oasis where you and your family can relax and enjoy each other's company under the Raleigh, North Carolina sky. Carolina Outdoor Creations, Lawn & Landscapes professional landscape construction crew can design and build you the outdoor living space of your dreams. Imagine yourself cooking a delicious meal in your own customized outdoor kitchen. Dream of your family lounging on your luxurious paver patio, talking together, and having some laughs. Maybe a fire pit is more your style. You can roast marshmallows whenever you want! Whatever type of outdoor living structure you choose, Carolina Outdoor Creations, Lawn & Landscapes stands behind its work, providing a long-term warranty and giving you peace of mind.
We have the experience to build you an outdoor living space that enhances your home as well as your lifestyle. All our landscaping services fall under our plan to remove the mystery from landscaping. From the design stage to the installation stage, we make everything simple to understand, and we will let you know how much the project will cost. No hidden fees. We are the landscaping company with excellent customer service and a reputation for honesty and dependability. You're going to be impressed with the results!
Join Our Legion of Satisfied Customers
Our customers love how reliable and trustworthy we are. We love to hear them say so! Read these honest reviews from satisfied customers in Wake County.
"Always professional, efficient, reliable...Scott goes beyond the call to ensure great customer service on lawn care and hardscaping services. So thankful to have him take care of my lawn and landscaping!"
- Sharon M.

"Great company to deal with. Scott is a true professional and shows that he cares that his customers are satisfied with his work. He has done an outstanding job with our property. Would highly recommend him."
- Marylou H.

"Scott and his crew did some landscaping work at my house and I was blown away with how much better my property looked when he was finished. Scott was straightforward, responsive and an overall pleasure to work with."
- Andrew M.

"Since moving to Raleigh Scott and his crew have been maintaining my lawn and have always done a fantastic job. They are professional, show up on time and do a great job for a great price. I highly recommend them."
- Dallas A.

Check out our Google Reviews for more proof that Carolina Outdoor Creations, Lawn & Landscapes does everything it takes to make local homeowners happy.
Raleigh, North Carolina Homeowners Love Our Creative Outdoor Living Spaces!
When it comes to landscape installation projects, you need a professional on the job. Building a beautiful paver patio isn't an easy DIY weekend project. Our expert landscapers will come in and create something that looks perfect with your existing home and landscape. We have an eye for creative details as well as the know-how to get your project done right.
Patio

Our concrete pavers come in many different styles and colors, making a unique patio area perfectly suited to your home.

Fire Pit

Increase the amount of time you spend in your outdoor living space with a useful and attractive fire pit built right into your patio area.

Retaining Wall

Whether your wall is up against a hill or free-standing, it makes an outdoor living area feel complete, and it also adds a sense of privacy.

Pergola

Need shade from the hot sun? A pergola adds just the right amount of shade without detracting from the outdoor experience.

Outdoor Kitchen

Take your culinary skills into the great outdoors. A fully-customized outdoor kitchen is equipped with whatever luxuries you desire, including faucets, built-in grill, and storage space.

What else can you imagine? Do you have an idea that we haven't listed? Let us know about it! We're here to help you build your landscape dreams.
Outdoor Living Spaces That Are Worth Every Penny
If you think you would like something new and exciting in your backyard, but you're not sure you want to spend a lot, then we're here to tell you that our constructions are all high-quality and come with a long-term warranty. Every customer who has hired us to build an outdoor living space has gotten extreme value for what they received. Check out our Portfolio page to see more examples of homes in the Raleigh area that have been improved with a Carolina Outdoor Creations, Lawn & Landscapes outdoor living space.
Take the Stress Out of Landscaping with Our Easy Sign-Up Process
Getting the lawn care and landscaping services you need should be simple and uncomplicated. That's why Carolina Outdoor Creations, Lawn & Landscapes has developed a unique sign-up process that gets you connected with us right away.
To sign up for professional landscape construction services, follow these simple instructions:
At Carolina Outdoor Creations, Lawn & Landscapes, we are committed to answering every phone call. Good communication with our customers sets us apart from other lawn care companies. Our communication commitment extends to our pricing system, which we make clear and easy to understand. You can trust Carolina Outdoor Creations, Lawn & Landscapes to be honest and provide high-quality work at every job.
More Quality Services to Improve Your Entire Home Landscape
Because we are a full-service landscaping company, we can offer you everything you need from the design stage to routine maintenance. All our services are meant to be simple to understand with no hidden costs. Which of these landscaping services could your residential landscape benefit from?
Lawn Care

Keep your lawn healthy and beautiful all year long with our extensive lawn care and mowing services.

Tree Services

Take care of your gentle giants with our expert tree care and removal services.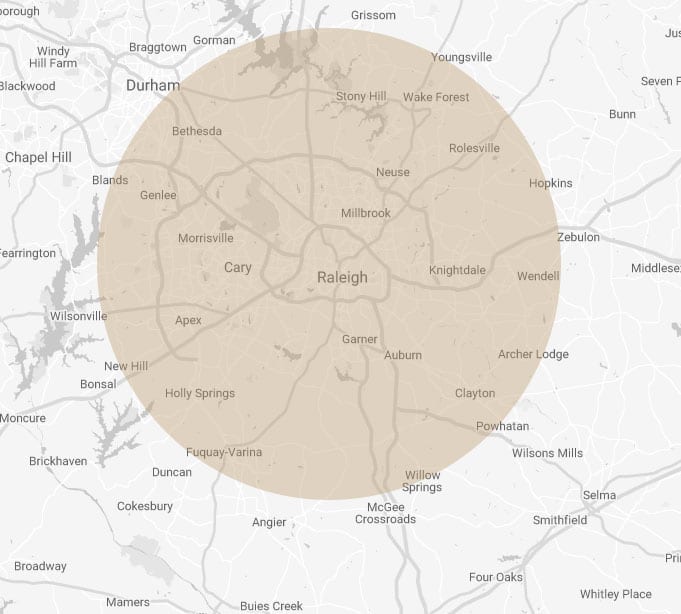 We Serve Raleigh, North Carolina and the Surrounding Areas
Our landscaping company is based in Garner, North Carolina, and we are pleased to work on residential landscapes all over the Raleigh, NC area. See our main Service Area page for a complete list of cities and neighborhoods.
Join Carolina Outdoor Creations, Lawn & Landscapes!
We are always looking for dependable employees to work on our landscaping crews. If you love working outdoors, appreciate the natural beauty of North Carolina, and value hard work and dedication to customer care, please get in touch.
Let's Have a Chat About Your Outdoor Living Plans
Now that we have your interest piqued and your imagination drawing up all sorts of images of patios, fire pits, and outdoor kitchens, it's time to take some action. Please contact us, and we'll get together and discuss your options. Carolina Outdoor Creations, Lawn & Landscapes is a trustworthy landscaping company that can build you a beautiful new addition to your landscape.