View Pricing & Get Started With Our Residential Lawn Mowing Right Now!
You can be on your way to getting dependable residential lawn mowing services with the simple click of a button. It's really as easy as selecting the actual acreage of your property, desired frequency, and filling out the registration form. Carolina Outdoor Creations, Lawn & Landscapes will take care of the rest.
Don't let another minute go by! Your lawn is waiting for the best mowing services in Raleigh, North Carolina. Get started now!
Register Now for Residential Lawn Mowing Services
Simply fill out the GET STARTED NOW form and hit SUBMIT!
We will contact you quickly so we can answer any questions that you may have regarding our Lawn Mowing Service.
Residential Standard Mowing Prices
Includes: Mowing the lawn, trimming around structures, edging walkway & driveways, and blowing off hardscape surfaces.
Acreage
(Acres or Less)
Weekly
Every
Two Weeks
Start Up
0.15
$33.95
$42.95
$52.40
0.25
$37.95
$46.95
$57.28
0.3
$41.95
$50.95
$62.16
0.4
$45.95
$54.95
$67.04
0.5
$51.95
$60.95
$74.36
0.6
$57.95
$67.95
$82.90
0.7
$63.95
$74.95
$91.44
0.8
$70.95
$81.95
$99.98
0.9
$78.95
$90.95
$110.96
1
$86.95
$98.95
$120.72
If We Say We're Going to Mow Your Lawn, We'll Do It!
Are you tired of hiring someone to mow your lawn, only to have them miss their scheduled appointment? Maybe you've even found yourself ghosted by would-be mowing contractors. At Carolina Outdoor Creations, Lawn & Landscapes, we understand how frustrating it can be to find a reliable lawn mowing company, and we're happy to be the solution.
Our lawn mowing service, formerly Mow Blow & Go of North Carolina, has been mowing lawns in the Raleigh area since 2010. Our loyal customer base loves our dependable services and our simple pricing system. Everything we do is designed to be easy for you. Now, as Carolina Outdoor Creations, Lawn & Landscapes, we'll continue to treat our customers with the respect and appreciation that they deserve.
Our residential lawn mowing services are designed to keep your lawn looking its best. Whether your turf contains Fescue grass, Bermudagrass, Centipedegrass, Zoysiagrass, or a different variety, our professional team can keep it trimmed, lush, and healthy with a regular cut. You never have to worry about our crew getting lost on the way to your home. We use a CRM system to keep our team on track every day. This highly-reliable system of job tracking works well for scheduling and also keeps track of your invoices. You only pay for the services you get.
Read on to learn more about our lawn mowing services and then fill out the Get Started Now form above to get started. It's that simple.
Join Our Legion of Satisfied Customers
Our customers love how reliable and trustworthy we are. We love to hear them say so! Read these honest reviews from satisfied customers in Wake County.
"Always professional, efficient, reliable...Scott goes beyond the call to ensure great customer service on lawn care and hardscaping services. So thankful to have him take care of my lawn and landscaping!"
- Sharon M.

"Great company to deal with. Scott is a true professional and shows that he cares that his customers are satisfied with his work. He has done an outstanding job with our property. Would highly recommend him."
- Marylou H.

"Scott and his crew did some landscaping work at my house and I was blown away with how much better my property looked when he was finished. Scott was straightforward, responsive and an overall pleasure to work with."
- Andrew M.

"Since moving to Raleigh Scott and his crew have been maintaining my lawn and have always done a fantastic job. They are professional, show up on time and do a great job for a great price. I highly recommend them."
- Dallas A.

Check out our Google Reviews for more proof that Carolina Outdoor Creations, Lawn & Landscapes does everything it takes to make local homeowners happy.
Get a Great Looking Lawn with No Contracts and No Hidden Costs
When you don't have the time or ability to mow your own lawn faithfully, Carolina Outdoor Creations, Lawn & Landscapes will come to your rescue. We offer great residential lawn mowing services that will leave you with a beautiful lawn and no worries! Our services include these benefits:
Weekly Mowing

We highly recommend having your lawn cut weekly for stronger grass blades and a thicker, healthier lawn.

Mowing every 7 days ensures that we follow the mowing rule of thumb: cut no more than 1/3 of the blade length at any one mowing.
Weekly mowing keeps certain diseases and pests from becoming a problem.
In addition to mowing your lawn, we also trim around structures, edge your walkways and driveways, and blow off hardscape surfaces.

Every Two Weeks Mowing

We only suggest waiting 14 days between visits for warm-season turfs that require less frequent mowing. Mowing every two weeks can be extremely unhealthy for fescue lawns. 

Transparent Pricing

You know exactly how much to pay using our convenient pricing guide, which we post right here on our website.

Easy Signup

We respect your time. Fill out the Get Started Now form above to get started with our lawn mowing services.

Quick Response

If you have any questions or concerns, simply reach out to us via email (preferred) or phone, and we'll get back to you right away.

No Contract Necessary

We keep mowing your lawn until you tell us to stop.
Take advantage of Carolina Outdoor Creations, Lawn & Landscapes convenient pricing and reliable residential lawn mowing services. You deserve to spend less time worrying about your lawn and more time enjoying it!
Impressive Lawns for Fine Raleigh, North Carolina Neighborhoods
Get the look that is sure to impress your family, neighbors, and HOA. View our portfolio of well-tended residential lawns in Raleigh and other beautiful neighborhoods in Wake County.
Our Simple Process Respects Your Time
Obtaining weekly lawn mowing services shouldn't be a burden. Our simple signup process saves you time so you can stop worrying about your lawn. Carolina Outdoor Creations, Lawn & Landscapes connects you instantly with our prices.
For reliable lawn care services, you can get started now by following these easy steps: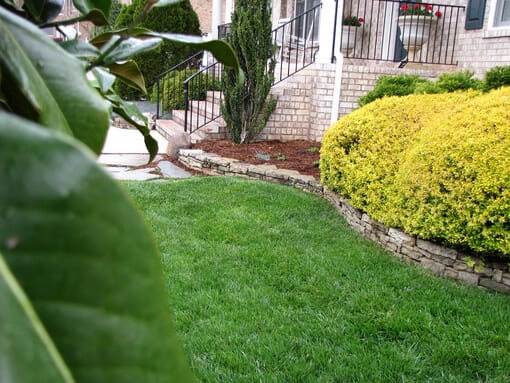 At Carolina Outdoor Creations, Lawn & Landscapes, we are committed to answering every phone call. Good communication with our customers sets us apart from other lawn care companies. Our communication commitment extends to our pricing system, which we make clear and easy to understand. You can trust Carolina Outdoor Creations, Lawn & Landscapes to be honest and provide high-quality work at every job.
Comprehensive Lawn Care and Landscaping Services for the Raleigh Area
We are a full-service landscaping company with services for everything, from design and installation to mowing. Check out these top services that make Carolina Outdoor Creations, Lawn & Landscapes the only landscaping company you need in Raleigh, North Carolina:
Lawn Care

Keep your lawn healthy and beautiful all year long with our extensive lawn care services.

Tree Services

Take care of your gentle giants with our expert tree care and removal services.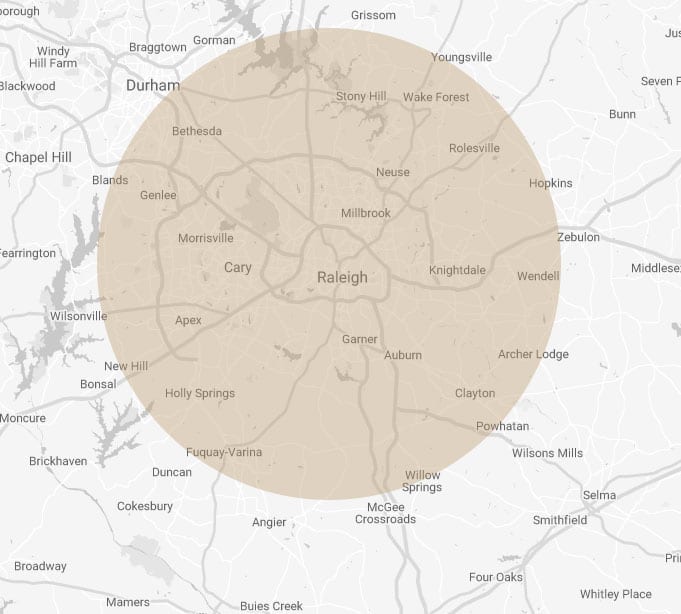 We Serve Raleigh, North Carolina and the Surrounding Areas
Our landscaping company is based in Garner, North Carolina, and we are pleased to work on residential landscapes all over the Raleigh, NC area. See our main Service Area page for a complete list of cities and neighborhoods.
Join Carolina Outdoor Creations, Lawn & Landscapes!
We are always looking for dependable employees to work on our landscaping crews. If you love working outdoors, appreciate the natural beauty of North Carolina, and value hard work and dedication to customer care, please get in touch.