Join Our Hard-Working Team to Make a Positive Difference Through Excellent Landscaping
Working at Carolina Outdoor Creations, Lawn and Landscapes is like working in a good family. You are treated with respect. Your team members share your values of hard work and pride in a job well done. You can speak to the boss and know that you're going to be heard and treated fairly. Employees at Carolina Outdoor Creations enjoy working in the North Carolina outdoors. They have skills in the landscaping industry. Most of all, they are willing to work together as a team to get their work finished efficiently and correctly.
We are always on the lookout for dependable individuals to fill our full-time, part-time, and seasonal positions. We offer competitive wages for all our landscaping jobs.
Is a Landscaping Job in Your Future? View our current openings!
If you like what you see on our website, and you feel confident that your skills and passion for doing quality work make you a good candidate for one of our landscaping jobs, then we want to see your application! Please view current openings below and apply today!
Join Our Legion of Satisfied Customers
Our customers love how reliable and trustworthy we are. We love to hear them say so! Read these honest reviews from satisfied customers in Wake County.
"Always professional, efficient, reliable...Scott goes beyond the call to ensure great customer service on lawn care and hardscaping services. So thankful to have him take care of my lawn and landscaping!"
- Sharon M.

"Great company to deal with. Scott is a true professional and shows that he cares that his customers are satisfied with his work. He has done an outstanding job with our property. Would highly recommend him."
- Marylou H.

"Scott and his crew did some landscaping work at my house and I was blown away with how much better my property looked when he was finished. Scott was straightforward, responsive and an overall pleasure to work with."
- Andrew M.

"Since moving to Raleigh Scott and his crew have been maintaining my lawn and have always done a fantastic job. They are professional, show up on time and do a great job for a great price. I highly recommend them."
- Dallas A.

Check out our Google Reviews for more proof that Carolina Outdoor Creations, Lawn & Landscapes does everything it takes to make local homeowners happy.
Work for a Company that Offers a Full Range of Landscaping Services
Our professional landscaping company does much more than mow lawns. Check out each of our services. We have a lot of talent on our team, and we use that talent to deliver amazing services to our customers.
Creative Problem Solving Makes Us More Than Average Landscapers
Every project comes with its own challenges. When you work on a landscaping crew at Carolina Outdoor Creations, you're going to come up against something that doesn't have a precedence. Nature doesn't follow a rule book! As true professional landscapers, we don't just give up or try to cover up the problem. We think outside the box and come up with a solution that will work. Do you enjoy working outdoors and making the landscape look beautiful? You may have what it takes to work on our team.
Reliable Work Means You Work Reliably
One of Carolina Outdoor Creations' key selling points is its ability to keep its promises. When we say we're going to be somewhere and do a certain job, then we better be there. We like to keep our promises to our employees as well. If you are hired, we'll do our best to give you steady work that keeps you challenged and helps you meet your personal career goals. In return, we expect you to be on time, give us your best work, and treat our customers and fellow team members with professional respect.
Safety Comes First Because We Value Our Employees
Landscaping involves trucks, mowers, and other equipment that needs to be handled with care. At Carolina Outdoor Creations, we are committed to the safety of our employees and the safety of everyone in the work area. We will train you in safety procedures, how to properly operate our landscaping equipment, and how to clean up carefully at the end of the work day. Our equipment is kept in good repair, and we keep our trucks clean. For all of our landscaping jobs, safety always comes first.
Good Technology Keeps Us On Schedule
Our team can be as reliable and efficient as we are because we make good use of technology. Our CRM system (Customer Relationship Management) keeps track of our schedules, gives us a place to share notes on each project, and helps us better communicate with our customers. Once you learn how to use the system, you will find that it helps you get to your jobsite on time and allows you to quickly check up on job status, so you always know what you're needed for.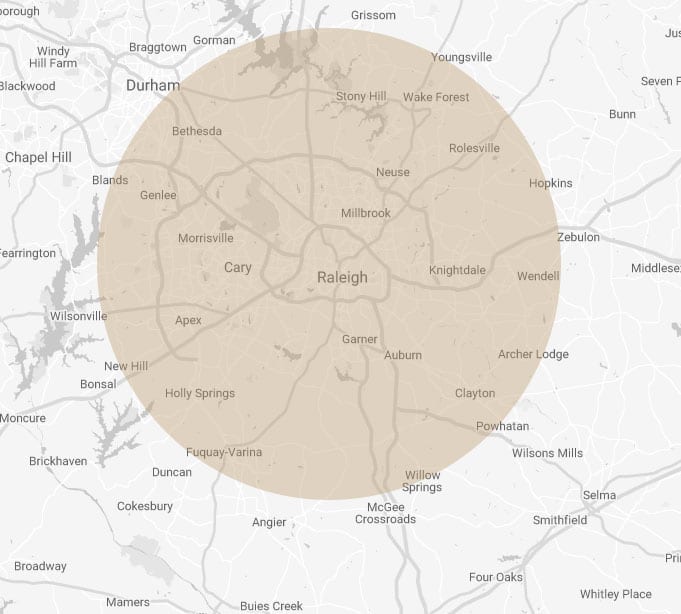 We Serve Raleigh, North Carolina and the Surrounding Areas
Our landscaping company is based in Garner, North Carolina, and we are pleased to work on residential landscapes all over the Raleigh, NC area. See our main Service Area page for a complete list of cities and neighborhoods.