View Pricing & Get Started With Our Residential Lawn Mowing Right Now!
Signing up for lawn mowing services is simple with the Carolina Outdoor Creations, Lawn & Landscapes no-nonsense registration form. Select the total acreage of your residential property, how often you want it mowed, and then fill in your contact details. We will get back to you as soon as possible.
Your lawn deserves mowing services that you can depend on. Find out why Cary, North Carolina homeowners are relying on us more and more. Get started now!
Register Now for Residential Lawn Mowing Services
Simply fill out the GET STARTED NOW form and hit SUBMIT!
We will contact you quickly so we can answer any questions that you may have regarding our Lawn Mowing Service.
Residential Standard Mowing Prices
Includes: Mowing the lawn, trimming around structures, edging walkway & driveways, and blowing off hardscape surfaces.
Acreage
(Acres or Less)
Weekly
Every
Two Weeks
Start Up
0.15
$33.95
$42.95
$52.40
0.25
$37.95
$46.95
$57.28
0.3
$41.95
$50.95
$62.16
0.4
$45.95
$54.95
$67.04
0.5
$51.95
$60.95
$74.36
0.6
$57.95
$67.95
$82.90
0.7
$63.95
$74.95
$91.44
0.8
$70.95
$81.95
$99.98
0.9
$78.95
$90.95
$110.96
1
$86.95
$98.95
$120.72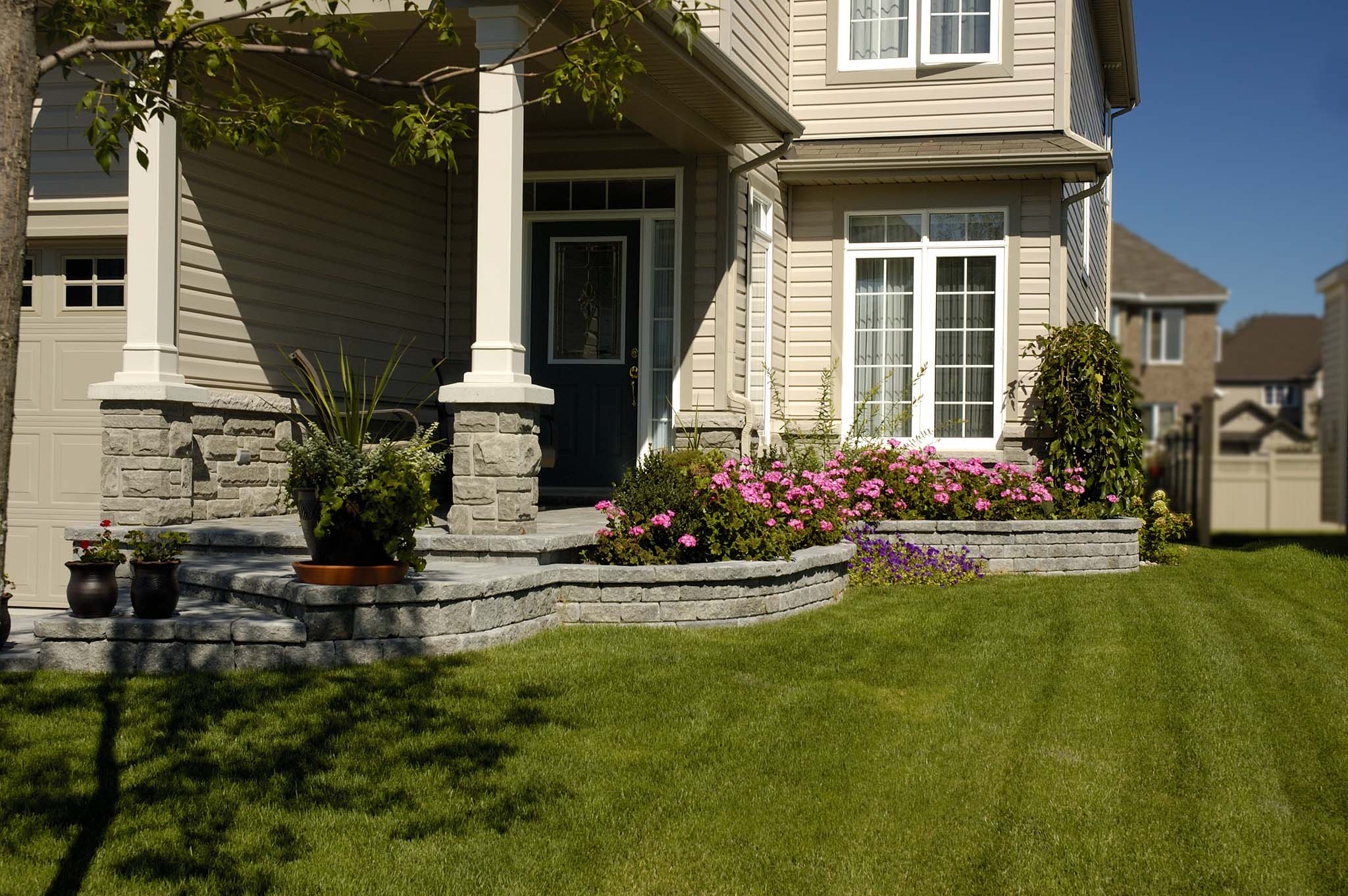 Lawn Mowing Contractors You Can Completely Trust
There's nothing worse than a lawn mowing company that shows up late or not at all. We understand the frustrations involved in finding a company that will mow your lawn reliably and does a good job. Carolina Outdoor Creations, Lawn & Landscapes promises to be the Cary, North Carolina lawn mowing company you can trust.  Following through on our commitments is an important part of who we are. For over 10 years, we have been faithfully mowing residential lawns in Cary and surrounding areas. We keep building our loyal customer base and serving more and more homeowners who have realized that they can rely on us.
We used to go by the name Mow Blow & Go of North Carolina. Now, we have a new name, but we still abide by our same standards of hard work and reliability. Our innovative CRM system helps keep our crews on schedule and informed. How do we help you out? We post our easy-to-understand pricing system right here on our website, so you know what the job is going to cost. There are no hidden fees or sneaky tricks up our sleeves. We don't even work by contract. Instead, we plan on mowing your Cary, NC lawn either every week or every other week (your choice), and you let us know when you want us to stop.
Join Our Legion of Satisfied Customers
Our customers love how reliable and trustworthy we are. We love to hear them say so! Read these honest reviews from satisfied customers in Wake County.
"Always professional, efficient, reliable...Scott goes beyond the call to ensure great customer service on lawn care and hardscaping services. So thankful to have him take care of my lawn and landscaping!"
- Sharon M.

"Great company to deal with. Scott is a true professional and shows that he cares that his customers are satisfied with his work. He has done an outstanding job with our property. Would highly recommend him."
- Marylou H.

"Scott and his crew did some landscaping work at my house and I was blown away with how much better my property looked when he was finished. Scott was straightforward, responsive and an overall pleasure to work with."
- Andrew M.

"Since moving to Raleigh Scott and his crew have been maintaining my lawn and have always done a fantastic job. They are professional, show up on time and do a great job for a great price. I highly recommend them."
- Dallas A.

Check out our Google Reviews for more proof that Carolina Outdoor Creations, Lawn & Landscapes does everything it takes to make local homeowners happy.
What Do You Get from Our Lawn Mowing Services?
You get high-quality services at a price you can afford. Check out the various aspects of our Cary, NC lawn mowing services.
Weekly Mowing

We highly recommend the weekly lawn mowing option because the regular cutting helps strengthen your grass blades, making your lawn look better than ever.

The lawn mowing rule of thumb is: don't cut more than one-third of the grass blade length during one mowing.

A weekly mowing deters pests and diseases from setting in.

You will always get proper mowing, trimming, edging, and blowing with our weekly services.

Bi-Weekly Mowing

If your turf is a warm-season turf, you will want to choose the bi-weekly mowing because they don't require frequent mowing. For other common turfs in our area, such as Fescue grass, waiting 14 days between mowings may actually compromise the health of your lawn.

Simple, Transparent Pricing

Look up your acreage on our posted pricing guide and learn how much it costs to get lawn mowing services. It's that easy.

Excellent Customer Service

We believe in getting back to our customers right away. We know your time is valuable. That's why when you fill out our online form, email us (preferred), or call us on the phone, we'll respond quickly. You can count on us.

No Contract

Forget the confusing small print and technical jargon on a contract. We have a better way: sign up for our services, and we'll begin right away. You tell us when to stop.
Get the Healthy Lawn You've Always Wanted
Your neighbors in Cary, North Carolina will appreciate and admire your healthy-looking lawn. Take a look at our portfolio to see beautiful residential lawns we mow regularly.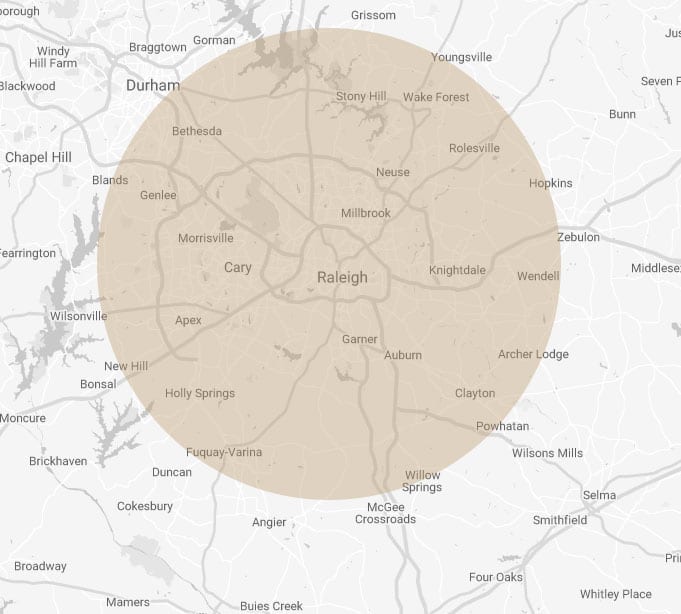 We Serve Raleigh, North Carolina and the Surrounding Areas
Our landscaping company is based in Garner, North Carolina, and we are pleased to work on residential landscapes all over the Raleigh, NC area. See our main Service Area page for a complete list of cities and neighborhoods.
Join Carolina Outdoor Creations, Lawn & Landscapes!
We are always looking for dependable employees to work on our landscaping crews. If you love working outdoors, appreciate the natural beauty of North Carolina, and value hard work and dedication to customer care, please get in touch.
Let Us Start Mowing Your Lawn!
You won't regret putting our crews to work on your lawn in Cary, North Carolina. We offer dependable lawn mowing services with excellent benefits. Contact us with any questions.