View Pricing & Get Started With Our Residential Lawn Mowing Right Now!
You can be on your way to getting dependable Garner, North Carolina residential lawn mowing services with the simple click of a button. It's really as easy as selecting the actual acreage of your property, desired frequency, and filling out the registration form. Carolina Outdoor Creations, Lawn & Landscapes will take care of the rest.
Don't let another minute go by! Your lawn is waiting for the best mowing services in Garner, NC. Get started now!
Register Now for Residential Lawn Mowing Services
Simply fill out the GET STARTED NOW form and hit SUBMIT!
We will contact you quickly so we can answer any questions that you may have regarding our Lawn Mowing Service.
Residential Standard Mowing Prices
Includes: Mowing the lawn, trimming around structures, edging walkway & driveways, and blowing off hardscape surfaces.
Acreage
(Acres or Less)
Weekly
Every
Two Weeks
Start Up
0.15
$33.95
$42.95
$52.40
0.25
$37.95
$46.95
$57.28
0.3
$41.95
$50.95
$62.16
0.4
$45.95
$54.95
$67.04
0.5
$51.95
$60.95
$74.36
0.6
$57.95
$67.95
$82.90
0.7
$63.95
$74.95
$91.44
0.8
$70.95
$81.95
$99.98
0.9
$78.95
$90.95
$110.96
1
$86.95
$98.95
$120.72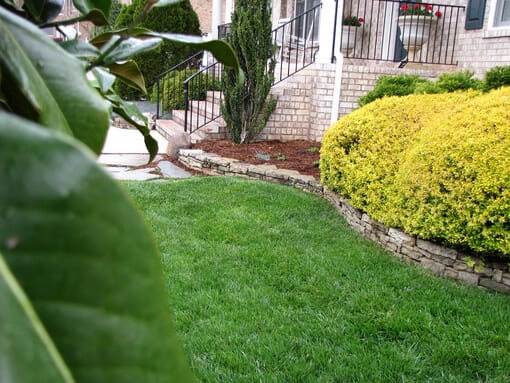 Tired of Lawn Mowing Companies That Don't Keep Their Promises? Check This Out!
We have been mowing lawns in the Garner, NC area for over 10 years. You won't believe how often we hear people complaining about a lawn care company that didn't show up, or a lawn mowing service that only did part of their job. We can see the frustration, and in response, we promise to never leave you hanging. We are dedicated to being on time and following through on our promises. No worries about our crews getting lost; our CRM system ensures that all our employees are fully aware of where they are going and what they are supposed to be doing once they get there.
Carolina Outdoor Creations, Lawn & Landscapes was formerly called Mow Blow & Go of North Carolina. Although the name is different, we still work by the same high standards. We have a simple, transparent pricing system, which makes it easy for you to see what it will cost to get dependable lawn mowing services. No contract is required. You decide if you prefer weekly or bi-weekly mowing, and we will continue on that schedule until you tell us to stop. We appreciate our loyal customers, and we will always treat your property and landscape with respect.
Join Our Legion of Satisfied Customers
Our customers love how reliable and trustworthy we are. We love to hear them say so! Read these honest reviews from satisfied customers in Wake County.
"Always professional, efficient, reliable...Scott goes beyond the call to ensure great customer service on lawn care and hardscaping services. So thankful to have him take care of my lawn and landscaping!"
- Sharon M.

"Great company to deal with. Scott is a true professional and shows that he cares that his customers are satisfied with his work. He has done an outstanding job with our property. Would highly recommend him."
- Marylou H.

"Scott and his crew did some landscaping work at my house and I was blown away with how much better my property looked when he was finished. Scott was straightforward, responsive and an overall pleasure to work with."
- Andrew M.

"Since moving to Raleigh Scott and his crew have been maintaining my lawn and have always done a fantastic job. They are professional, show up on time and do a great job for a great price. I highly recommend them."
- Dallas A.

Check out our Google Reviews for more proof that Carolina Outdoor Creations, Lawn & Landscapes does everything it takes to make local homeowners happy.
Residential Lawn Mowing Services for a Great Looking Lawn
We offer professional lawn mowing services. That means our lawn crews are knowledgeable about turf and what helps it look its best. In the Garner, NC area, we deal with different varieties of grass, including Fescue grass, Bermudagrass, Centipedegrass, and Zoysiagrass. A regular cut will help keep your turf healthy and lush. Our residential lawn mowing services include mowing, trimming around buildings and fences, edging the walkways and driveways, and blowing the clippings off your hardscape surfaces. We do a complete job for one simple price.
Benefits of Choosing Carolina Outdoor Creations, Lawn & Landscapes for Your Lawn
Many people wish they had the time and energy to mow their own lawns, but life doesn't always work out that way. When you need a lawn mowing service, you can depend on us. Our services include the following benefits:
Weekly Mowing

Getting your lawn cut weekly actually helps strengthen the grass blades, creating a thicker, lusher lawn. We highly recommend getting your lawn cut every week. 

We follow the mowing rule of thumb: don't cut more than one-third of the blade length at one mowing.

Diseases and pests have less chance of becoming a problem.

The mowing services always include trimming, edging, and blowing off your hardscape surfaces.

Mowing Every Two Weeks

The only reason you may want to wait 14 days between mowing is if you have a warm-season turf that requires less frequent mowing. For Fescue grass, mowing every two weeks is not recommended. It can compromise the health of your turf.

Transparent Pricing

Our simple pricing guide is posted on our website because we believe in being completely open and honest. Look up your acreage, and find out how much we charge for your lawn mowing services. There are no hidden costs.

Simple Sign Up Form

Don't miss work because you have to meet with your lawn mower! We make signup easy. Fill out the registration form to get started, and we'll confirm it quickly.

Fast Response Time

We're dedicated to great customer communication. If you have any questions or concerns, please reach out via email (preferred) or phone, and we will respond quickly. Your time is valuable.

No Contract

You never have to deal with a confusing contract. We'll start mowing when you sign up, and we'll stop when you tell us to stop.
Every aspect of our lawn mowing service is designed to give you less to worry about. We aim to provide great lawn services so you can enjoy your lawn without bothering with people who don't show up as scheduled. When you're ready to hire us for reliable lawn mowing, simply fill out the form above.
Impressive Lawns for Fine Garner, North Carolina Neighborhoods
Get the look that is sure to impress your family, neighbors, and HOA. View our portfolio of well-tended residential lawns in Garner and other beautiful neighborhoods in Wake County.
Get Started Now with Top-Notch Lawn Mowing Services!
Take a moment to fill out the registration form above. We are pleased to offer you the most dependable lawn mowing services in Garner. Contact us if you have any questions. We look forward to working for you!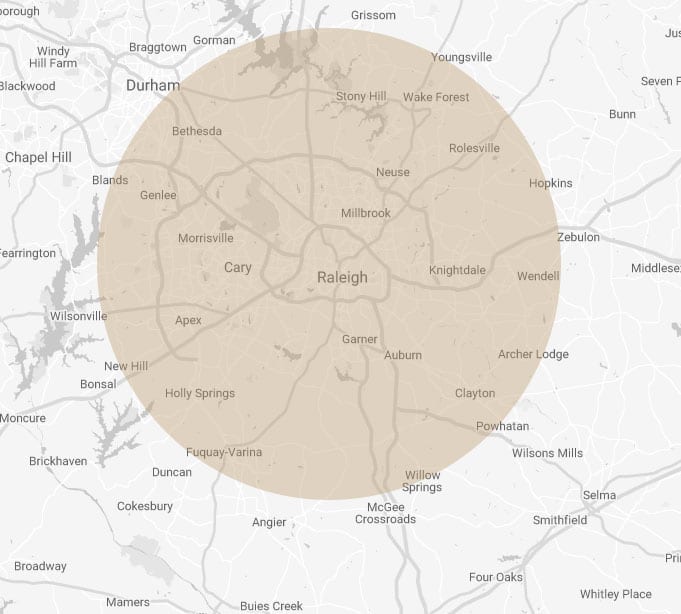 We Serve Raleigh, North Carolina and the Surrounding Areas
Our landscaping company is based in Garner, North Carolina, and we are pleased to work on residential landscapes all over the Raleigh, NC area. See our main Service Area page for a complete list of cities and neighborhoods.
Join Carolina Outdoor Creations, Lawn & Landscapes!
We are always looking for dependable employees to work on our landscaping crews. If you love working outdoors, appreciate the natural beauty of North Carolina, and value hard work and dedication to customer care, please get in touch.